[attr="class","box"]Character Name: Jonathan Kanus
Player Name: King
Era: Modern Day
Class: Sage
[attr="class","box"]
[attr="class","box-title"]ADVANTAGES
| | |
| --- | --- |
| Advantage | Effect |
| Inconspicuous | Less noticeable when blending into crowds. |
| Predator | When on the hunt, his sense sharpen and his instincts take over, making him more effective in combat. |
| | |
| | |
| | |
| | |
| | |
| | |
| | |
[attr="class","box"]
[attr="class","box-title"]DISADVANTAGES
| | |
| --- | --- |
| Disadvantage | Effect |
| Scarred | More easily recognised |
| Public Eye | His heritage makes his true name easily known if one sees his face. |
| | |
| | |
| | |
| | |
| | |
| | |
| | |
[attr="class","box"]
[attr="class","box-title"]ARMOUR WORN
Head: Hood
Neck:
Hands: Gloved
Shoulders: Coat
Arms: Coat
Chest: White Business Shirt & Coat
Stomach: White Business Shirt
Thighs: Dress Trousers
Lower Legs: Dress Trousers
Feet: Neat Leather Shoes
[attr="class","box"]
[attr="class","box-title"]WEAPONS
Bare Hands

Kick
Polish Vis Pistol

Hidden Blade (Right Arm)

List item 5
List item 6
[attr="class","box"]
[attr="class","box-title"]DESCRIPTION
Appearance: Tall, approximately 6' 5", Jonathan is broad-shouldered and almost predatory in stance and style. His hair is a pale grey, and he has a scar running over his left eye from a piece of shrapnel while he was in the army.
Personality: Often brusque, Jonathan tends towards silence rather than nonchalant chit-chat.
Likes/Dislikes: He likes country music and anything nerdy, disliking bad manners
Hobbies: Target shooting, tabletop games, and writing.
Quote: "When life gives you shrapnel, close your eyes and scream."
Goal: To protect his family and ensure that the Templars don't take over the world.
[attr="class","box"]
[attr="class","box-title"]BACKGROUND
Relatives:
- Evie Frye (Great-Great Grandmother)
- Lydia Frye (Grand-Aunt)
Friends:
- Jacob Stone (Military Buddy)
- Jenna McAlister (Fiancée)
Family:
- Evelyn Rose Kanus (Sister)
- Mary Annabelle Kanus (Mother)
- Charles François Kanus (Father - Deceased)
[attr="class","box"]
[attr="class","box-title"]IMPORTANT EVENTS
| | |
| --- | --- |
| Date | Notes/Description |
| 09/02/1980 | Jonathan is born. |
| 04/07/1990 | Evelyn Rose is born. |
| 14/03/2005 | Jonathan joins the armed forces. |
| 28/04/2011 | Charles Kanus dies. |
| 07/09/2015 | Jonathan retires from the armed forces. |
| 09/09/2015 | Jonathan learns of his Assassin heritage. |
| 10/09/2015 | Jonathan begins learning the skills of the Assassin. |
| | |
| | |
| | |
| | |
| | |
| | |
| | |
| | |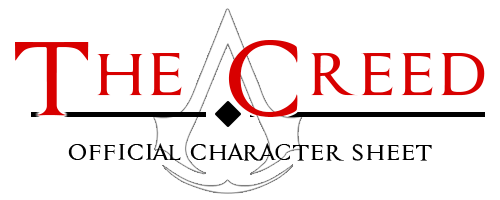 [attr="class","box"]
[attr="class","box-title"]
Character Image

[attr="class","box"]
[attr="class","box-title"]SKILLS
Assassin Steps

Leadership III

Brawler II

Natural Counter

Nimble Brawn

Networking - Lvl 1

Quick Grappler

Athletics - Lvl 1

Conserve Momentum

Micro Miniaturized

Security - Lvl 1

Intimidate - Lvl 1

Eagle Vision III

Medicine - Lvl 1

Insert Skill Here
Insert Skill Here
Insert Skill Here
Insert Skill Here
Insert Skill Here
Insert Skill Here
Insert Skill Here
Insert Skill Here
Insert Skill Here
Insert Skill Here
Insert Skill Here
Insert Skill Here
Insert Skill Here
Insert Skill Here
Insert Skill Here
Insert Skill Here
Insert Skill Here
Insert Skill Here
Insert Skill Here
Insert Skill Here
Insert Skill Here
Insert Skill Here
Insert Skill Here
Insert Skill Here
Insert Skill Here
Insert Skill Here
Insert Skill Here

[attr="class","box"]
[attr="class","box-title"]ITEMS CARRIED
Boeing Black Smartphone

Brotherhood HQ Security Card

Carbon Nanotube Hooded Coat

List item 4
List item 5
List item 6
List item 7
List item 8
List item 9
List item 10
List item 11
List item 12
List item 13
List item 14
List item 15
List item 16
List item 17
List item 18
List item 19
List item 20
[attr="class","box"]
[attr="class","box-title"]MISC
Any other brief notes here
[newclass=".box"]border:2px solid #363636; padding: 5px; border-radius: 0;[/newclass]
[newclass=".box-title"]background-color: #363636; padding-top: 2px; padding-bottom: 7px; color: #EFEFEF; text-align: center;[/newclass]